Pile Saver Guarantee : Stop Shipworm Damage
20 Year Guarantee
Pile Savers are guaranteed to extend your new or existing pilings' lifespan up to 20 years!
Durable Material
Not only will Pile Savers be working for you 24/7 but they are made to last and withstand weather, water and anything else that nature throws at them. With a polyethylene exterior shell for protection from the elements and a no-rot pvc interior scrubber, Pile Savers are designed to protect your pilings for decades.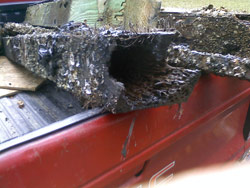 These pilings were 3 years old when pile savers were installed. The X bracing was moved above high tide level and the pilings scraped before the pile savers were installed. With pile savers installed the owner of this pier will never have to worry about his pilings becoming fouled again because the pile savers are guaranteed for 20 years.
---
Call
910-842-3625
or click to order
Pile Savers
.
Pile Savers is located in Ocean Isle Beach, NC and provides Pile Savers and installation nationwide.