Pile Savers : Piling Protection
Constantly Preventing Marine Growth
Pile Savers are not just an easy and affordable solution to Marine Growth, Rot and Shipworm damage on pilings – they are designed to work non-stop 24/7 for the life of your pilings.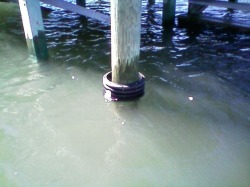 A Natural Way to Stop Piling Rot
Pile Savers work with the nature Tidal Movements to help keep your pilings clean. Pile Savers follow the natural up and down motion of fides, waves, and wakes to scrape your pilings and stop those pesky marine organisms from clinging – and rotting- your pier's pilings. This means that once you install Pile Savers, you don't have to worry about them! Pile Savers get the job done!.
Clean Pilings - 24/7
The US Army Corps of Engineers has done studies on piling damage and determined that most damage to pilings occurs in the "tidal zone" between low tide and high tide. This "tidal zone" area is where "Pile Saver" does its work to keep your pilings clear of attachments.
---
Call
910-842-3625
or click to order
Pile Savers
.
Pile Savers is located in Ocean Isle Beach, NC and provides Pile Savers and installation nationwide.